Recent News
Election Nominations 2017
We have received 4 Nominations for the 3 Council Positions for the summer village election.
The list of registered nominees are (in alphabetical order):
Duncan Binder
James Montague
Chad Newton
Robert (Bob) Yontz
Thanks to all of the nominees for putting their names forward.
2017 Summer Programs
Starting Thursday July 6th
Saturdays 12 - 5PM
Tuesdays 12 - 5PM
Thursdays 12 - 5PM
Many Activities including Sports, Games, Events and Crafts. Come out and learn, have fun and make new friendships. If there's a game or activity that you'd like to play, just ask!
Come and say Hi! to Matt and Danyka at the Blue Park on Lakeshore Drive South.
For kids of all ages, but must be independent as kids are free to come and go. Though safety is our primary concern, parents are responsible for their children at all times.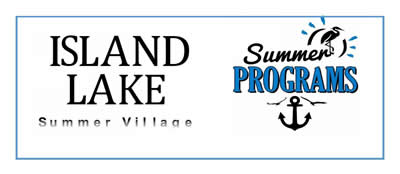 OHV Helmet Law
Are you familiar with the details of the Off-Highway Vehicle (OHV) Helmet Law? This law, effective May 15, 2017, pertains to ATVs, low pressure tire vehicles, motorcycles and related 2-wheel vehicles, amphibious vehicles, utility terrain vehicles, miniature motor vehicles, snow vehicles, minibikes, snowmobiles, snow bikes, dirt bikes, side-by-sides and other means of motorized transport intended for cross-country travel.
If you aren't aware of the penalties and requirements under this new law, please click here to read up ...
Upcoming Events
2017 Summer Programs
Saturdays, Tuesdays & Thursdays this summer
Join us on Saturdays, Tuesdays and Thursday at Blue Park on Lakeshore Drive South from 12 - 5 pm for activities for kids, including sports, games events and crafts.
---
Advanced Polls 2017
Jul 29 2017
Where: Summer Village of Island Lake South Hall
When: 10 am - 2 pm
---
Election Day 2017
Aug 12 2017
Where: Summer Village of Island Lake South Hall
When: 10 am - 7 pm
---