Recent News
Island Lake Days 2018
The 30th Annual Island Lake Days will be held on July 6 - 8, 2018.
We are always looking for people to help us put on this amazing community event. If you would like to volunteer, please contact Chad Newton at 780-909-2423.
More info to follow as date get closer!!!
Summer Program Coordinator
Looking for a summer job?
Under the direction of the Summer Village of Island Lake the Summer Program Coordinator will be responsible for the planning and provision of summer programs for children and youth which meet the needs and interests of the communities served by Island Lake. In addition the summer program coordinator will be required to perform minor maintenance within the Summer Village and will be responsible for the supervision of a Summer Leader.
Wage: $20/hr
Hours: 37.5 hrs/week
Click to learn more about this opportunity.
Beavers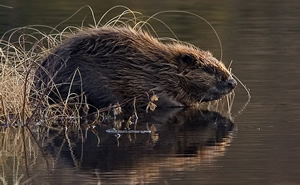 Councilor Binder attended the "Beavers in our Landscape" info session hosted by Athabasca County on February 8/18.
Here are some interesting highlights to be shared with the residents:
1- Beavers can live up to (16) years in the wild.
2- One out of every three will not survive during dispersal.
3- Aspen and willow are the mainstays of their daily diet but beavers will use a variety of tree and shrub species depending on availability.
4- Beavers prefer to use trees within 30 m of water and smaller trees and shrubs (5-10 cm in diameter) are selected first.
5- Fences can protect young trees, often the most targeted age classes of woody vegetation.
6- Wire mesh keeps beaver from cutting down bigger trees.
7- Effective protection requires thick wire mesh (mesh size 2.5 cm) and wrapping the tree trunk a minimum of 1.2 m high. Leave room for the tree to grow.
8- The most effective repellent seems to be a simple recipe of six cups of coarse sand mixed in a gallon of indoor latex paint and brushed onto tree trunks. The mixture has to be reapplied periodically.
9- Some have suggested use of chemical repellents, a combination of creosote and diesel fuel, trinitrobenzene-aniline (rodent repellent) or mothballs. All of these would be dangerous to use so close to water plus none have been shown to be effective deterrents.
10-A great resource for further information is the Cows and Fish - Alberta Riparian Habitat Management Society (www.cowsandfish.org)
Please note that bullets 1-9 were quoted/gleaned from a publication titled "Caring for the Green Zone: Beaver Our Watershed Partner" by Lorne Fitch P. Biol. 2016
OHV Helmet Law
Are you familiar with the details of the Off-Highway Vehicle (OHV) Helmet Law? This law, effective May 15, 2017, pertains to ATVs, low pressure tire vehicles, motorcycles and related 2-wheel vehicles, amphibious vehicles, utility terrain vehicles, miniature motor vehicles, snow vehicles, minibikes, snowmobiles, snow bikes, dirt bikes, side-by-sides and other means of motorized transport intended for cross-country travel.
If you aren't aware of the penalties and requirements under this new law, please click here to read up ...